Welcome Spring! Let's Do Some Deep Cleaning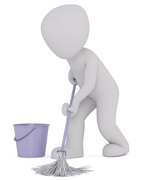 The passing of the vernal equinox brings with it thoughts of spring cleaning. While many of us are taking the time to spruce up our homes, restaurants can also benefit from this yearly ritual. This is especially true in 2021 when a recent study by Simon-Kucher & Partners found that consumers are willing to spend twice as much at restaurants that meet their cleaning standards.
IN HOUSE 
• Check the gaskets of refrigerator and freezer units.
• Change filters on HVAC units.
• Sanitize the ice machine.
• Check high shelves, artwork, moldings, and other areas that might get missed during regular cleanings.
• Wash windows.
• Make sure that first aid kits are fully stocked.
• Clean lighting fixtures and check for any bulbs that might need replacing.
• Wash curtains and dust blinds.
• Change water filters.
• Disinfect trash cans.
• Inspect furniture and appliances for any needed repairs.
BRING IN THE PROS
• Make sure you're up to date on your exhaust system cleanings.
• Get the walls and floors behind your equipment cleaned.
• Schedule a deep cleaning of the kitchen equipment.
• Power wash the outdoor dining area and garbage/recycle area.
• Get up to date on maintenance of your kitchen fire suppression system and fire extinguishers.
• Deep clean the carpets, floor mats and upholstery.
Taking the time for some spring cleaning will go a long way in creating a more positive experience for your customers and staff. Our teams look forward to helping you to refresh your space.
Trackback address for this post
Trackback URL (right click and copy shortcut/link location)
Feedback awaiting moderation
This post has 116 feedbacks awaiting moderation...

Comment feed for this post