The Importance Of Exhaust Fan Maintenance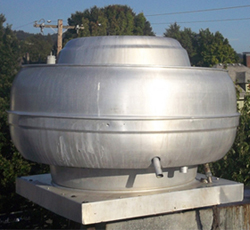 Being mounted on the roof, the kitchen exhaust fan often doesn't get much attention until something goes awry. Whether the kitchen gets smoky, there's a loud noise or vibration, or the fan stops working all together, the result is the same – an interruption in food service and a loss of revenue. Regular maintenance can help prevent this from happening and improve the efficiency and longevity of your system.
During a fan maintenance service our technicians will check several components within the system:
HINGES
Hinges allow the fan unit to be tilted back safely for access during cleaning. As we recently discussed in our blog, missing or non-functioning hinges can lead to damage of both the roof and the fan unit.
FAN BELTS
Fan belts will be inspected to ensure that they haven't become brittle or cracked. During the service the crew may also need to adjust the tension to prevent slippage and keep the fan running smoothly.
PULLEYS
Over time the fan pulleys may become rusted or misaligned leading to the fan belts needing more frequent replacement. Regular inspection and adjustment will help to prevent this issue.
WIRING
Cords and wires are checked for any signs of fraying, breakage, or kinks. Our team will also make sure that there is enough slack for the unit to be tilted back without pulling on the wires and that all connections are secure.
BLADES
The fan blades are checked and cleaned. Accumulation of grease and dirt can lead to screws, bolts, and other parts becoming loose due to excessive vibration.
BEARINGS
The fan bearings need to be lubricated regularly to keep the motor running smoothly and extend the life of the unit. This is also a safety issue as the heat generated by the fan shaft spinning on unlubricated bearing housings can become a fire hazard.
FAN COMPARTMENT  EXTERIOR
The interior fan compartment is cleaned of excess grease, fat and dust that may impede air flow. Additionally, the fan's location on the roof leaves it exposed to extreme weather conditions and for this reason, the exterior is also inspected for corrosion or leaks.
If you have any questions about our fan maintenance services or would like to schedule, just give us a call. We are always happy to assist you.
Trackback address for this post
Trackback URL (right click and copy shortcut/link location)
Feedback awaiting moderation
This post has 358 feedbacks awaiting moderation...

Comment feed for this post