The Importance Of Emergency Lighting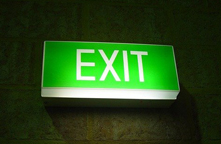 Here in the Pacific Northwest, recent snow and ice storms left a historical number of homes and businesses without power. During such weather events, as well as other incidents of fire or outages, emergency lights and exit signs are crucial to your customers and staff finding their way safely out of the building.
The National Fire Protection Agency (NFPA), OSHA and local municipalities have requirements that these life safety systems be tested regularly – once a month for 30 seconds and annually for 90 minutes. While most businesses prefer to handle the monthly testing themselves, annual inspections are performed by licensed technicians.
The restrictions on indoor dining due to COVID-19 may have led to a lapse in these regular inspections and maintenance, but now that dining rooms are beginning to reopen it's vital to ensure the proper performance of your fire safety and life protection systems. As stated by Shawn Mahoney in the NFPA Journal "all required inspection, testing, and maintenance on emergency lighting and exit signs should be up to date. This includes the monthly 30-second test and inspection as well as making sure that the full 90-minute test was completed within the last 12 months".
Our certified technicians are fully trained to perform this annual maintenance for you. During the inspection they will:
  * Conduct a 90-minute full simulation test
  * Inspect batteries and lenses for corrosion or damage
  * Clean each unit
  * Adjust the beams to ensure proper placement
  * Provide stickers and certification for your required records
Call 503-233-8120 or send us an email to schedule your appointment today. As always, we look forward to assisting you.
Trackback address for this post
Trackback URL (right click and copy shortcut/link location)
Feedback awaiting moderation
This post has 36 feedbacks awaiting moderation...

Comment feed for this post