Fire Extinguishers & Restaurant Safety
In addition to the Ansul fire suppression system found in the hood, fire extinguishers are also essential in keeping your restaurant safe. Class K fire extinguishers are required for all commercial kitchens as they contain agents specific to combating fires involving fats and oils specific to cooking, however the type of extinguisher best suited for use in each situation is dependent on the type of material that is fueling the fire.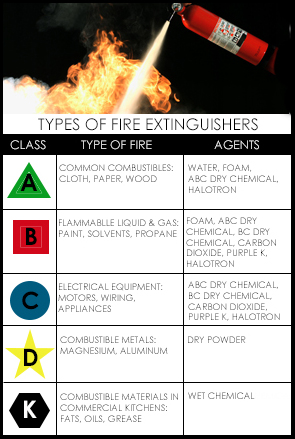 All extinguishers are required to have regular inspections. During these services, your extinguishers will be tested and tagged to make sure they are fully charged and in working order per NFPA-10 code. Equally important is ensuring that your employees have been trained in how to safely use a fire extinguisher:
P.A.S.S.

PULL- Pull the pin to break the tamper seal.
AIM- Aim low and point the nozzle at the base of the fire. (For CO2 extinguishers make sure not to touch the discharge horn as it gets very cold & could damage skin)
SQUEEZE- Squeeze the handle slowly and evenly.
SWEEP- Sweep side to side at the base of the fire until it appears to be out.
Our trained and certified fire suppression team is here to help you. If you have any questions or would like to schedule a service, don't hesitate to give us a call.
Trackback address for this post
Trackback URL (right click and copy shortcut/link location)
No feedback yet

Comment feed for this post