Don't Miss The Chance to Celebrate Food Holidays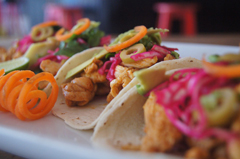 While celebrations like National Chili Month in October or National Wine Day on May 25th have become well recognized, there are food holidays to suit every menu and cocktail list (there's even a National Chocolate Covered Cherry Day on January 23rd). Taking the opportunity to feature a special dish or menu, offering a unique add-on, or creating themed to-go meals can help bring in orders and garner attention (not to mention adding some levity in these trying times).
As a jumping off point here are a few examples ranging from old time favorites to upscale delicacies:
January:
National Soup Month
National Pizza Week – 2nd week of January
National Pie Day – January 23rd
February:
National Fondue Month
Kraut & Frankfurter Week - 2nd week of February
National Stuffed Mushroom Day – February 4th
March:
National Noodle Month
American Chocolate Week – 3rd week of March
National Ravioli Day – March 20th
April:
National Grilled Cheese Month
National Bake Week – Beginning the 1st Monday in April
National Eggs Benedict Day – April 16th
May:
National Salad Month
National Hamburger Week – 2nd week in May
National Shrimp Day – May 10th
June:
National Seafood Month
National Steakhouse Month
National Donut Day
July:
National Ice Cream Month
National Hot Dog Month
National Wine & Cheese Day – July 25th
August:
National Sandwich Month
National Apple Week – 2nd week of August
National Oyster Day – August 5th
September:
Chili Peppers Month
National Biscuits & Gravy Week – 2nd week of September
International Chocolate Day – September 13th
October:
American Cheese Month
National Chili Week - 1st week in October
National Taco Day – October 4th
November:
National Pepper Month
National Fig Week – 1st week of November
National Nachos Day – November 6th
December:
National Pear Month
Lager Beer Week – 2nd week in December
National Pastry Day – December 9th
Trackback address for this post
Trackback URL (right click and copy shortcut/link location)
Feedback awaiting moderation
This post has 972 feedbacks awaiting moderation...

Comment feed for this post