Common Questions About Restaurant Fire Suppression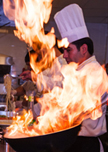 What type of fire suppression is my restaurant required to have?
Per the NFPA, commercial kitchens are required to have at least one Class K portable fire extinguisher. These extinguishers are designed specifically for use on cooking medium. While not required by code, it is also a good idea to have a class ABC extinguisher on hand for use on other types of fires such as paper, wood, and plastic. For further information see our August article on the different types of fire extinguishers.
As the majority of restaurant fires are caused by cooking equipment, a fixed fire suppression system is also needed. Located in the hood ventilation system above a stove, grill or fryer, the nozzles will automatically disperse wet chemical over the source of a fire.
How often will I need to have maintenance?
The NFPA requires that all extinguishers are visually inspected once a month (either by staff or our technicians) and inspected by trained and certified professionals once a year. Every 6 years dry chemical extinguishers are required to be emptied and receive maintenance. Extinguishers will also need to be periodically pressure tested (also called hydrostatic testing). For pressurized wet chemical, water, and carbon dioxide extinguishers this is every 5 years. For dry chemical extinguishers, testing is required every 12 years.
Fixed fire suppression systems are required by the NFPA to be professionally inspected and maintained at least every 6 months. All actuation and control components must be tested for proper operation and the fusible links replaced.
What happens during a fixed fire suppression service?
When our technicians arrive, they will:
• Inspect all system conduit and piping.
• Check all nozzles for blockages and clean or replace those requiring maintenance to ensure all are in proper working order.
• Replace all fusible links.
• Confirm that the gas and electric supply to equipment shuts off when the system is activated.
• Perform a trip test on the detection line to ensure proper actuation.
• Test the remote pull station.
• Test electrical interlocks.
• Inspect all agent and pressurized cylinders.
How are the fire extinguishers serviced?
The steps involved will depend on which service is due at the time of scheduling:
Monthly Inspections:
• Check for proper placement and ensure there are no obstructions.
• Inspect all pressure gauges.
• Make sure all parts – nozzle, hose, carriage and wheels – are in working order.
• Perform a push test on any non-rechargeable extinguishers to ensure the indication is working properly.
• Remove dust & grease from the extinguisher control area and exterior.
Annual Service:
• Fully inspect all extinguisher systems and provide a written report.
• Check pressure gauges.
• Ensure that all units are current on required 6- and 12-year
• Check for obstructions in the discharge hose.
• Make sure all safety seal and tamper indicators are in place.
• Check weight and pressure of agents.
Six-Year Service:
• Break down the extinguisher to check for damage.
• Replace the "O" ring.
• Replace the gasket.
• Recharge the extinguisher.
Five- & Twelve-Year Testing:
• Perform hydrostatic testing.
• Complete break down and emptying of extinguisher.
• Test cylinder for defects or damage.
• Recharge the extinguisher.
At the end of each service, you'll receive a detailed inspection report of what services were performed and notes on any needed repairs. Be sure to save these reports for inspection and insurance purposes. We will also forward a copy to the local Fire Marshall if required by the municipality.
In addition to regular maintenance, call to schedule a service any time the system is activated. Our technicians will make sure the system is properly recharged, that electric and gas are turned back on and check for any needed repairs.
If you have any questions about these services or would like to schedule, please call us at 503-233-8120.
Trackback address for this post
Trackback URL (right click and copy shortcut/link location)
Feedback awaiting moderation
This post has 1633 feedbacks awaiting moderation...

Comment feed for this post