Common Questions About Hood Exhaust Cleaning

Who?
Otter Commercial Services, formerly Metropolitan Services, was founded in 1974 by Dennis Kelley. Now run by his son, Matthew, we are proud to provide the highest quality hood exhaust cleaning, equipment maintenance, carpet cleaning and fire suppression services to over 1000 restaurants, hotels, hospitals, schools, and other commercial kitchens.
Where?
Based in Portland, Oregon, we ensure that every kitchen we service throughout Oregon and Washington is cleaned to the highest professional standards.
When?
We're often asked how often a system needs to be cleaned. This is dependent on several factors including the volume of cooking, the types of fuel used and the variety of foods that are cooked. We follow the National Fire Protection Association (NFPA) 96 Standard in determining the maintenance schedule for each kitchen we service.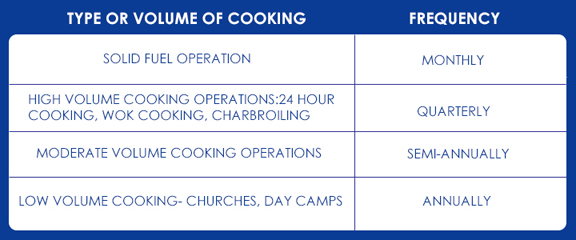 Why?
Accumulated grease deposits within the exhaust system are combustible. Flares from kitchen equipment can cause these deposits to ignite, leading to a fire throughout the system. Regular maintenance of is one of your primary defenses against fire hazards.
Per NFPA Code96 "the contaminated portions of the exhaust system shall be cleaned by a properly trained, qualified, and certified company or person(s) acceptable to the authority having jurisdiction."
How?
How long a cleaning will take depends on several factors:
  * How many hoods & fans are at the location.
  * The number of access panels.
  * The length & structure of the ductwork.
  * The types of fuel used.
  * Which foods and cooking techniques are used during preparation.
  * The number of meals being prepared.
  * How long it's been since the last cleaning.
While an average hood exhaust cleaning takes between 2 and 4 hours, you will be given a personal estimate after your free inspection.
What?
During your service our certified technicians will clean all accessible areas of the exhaust system from the kitchen to the roof. This includes the hood, plenum, accessible duct, and fan. Before and after photos will be taken to ensure quality and you will be presented with a service report noting the work performed and any recommended repairs that are needed. Our team will also restart the exhaust fans, replace & fasten access doors used during the cleaning and your kitchen will be left sparkling & ready for your staff to arrive.
Trackback address for this post
Trackback URL (right click and copy shortcut/link location)
Feedback awaiting moderation
This post has 5182 feedbacks awaiting moderation...

Comment feed for this post