Cleaning, Sanitizing & Disinfecting- There Is A Difference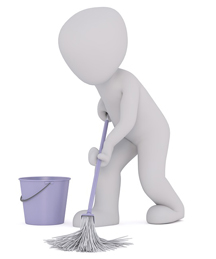 Keeping your kitchen and dining areas clean has always been essential and the current pandemic has brought this to the forefront of everyone's mind. Knowing the differences between cleaning, sanitizing, and disinfecting will help ensure that you're providing the safest environment possible for your patrons and staff.
Cleaning refers to the physical removal of visible debris such as food particles, dust and spills via wiping, dusting, and scrubbing. This is always the first step prior to sanitizing or disinfection. Although it can lower the number of pathogens on a surface, it will not kill them.
Sanitizing inhibits the growth and reduces the number of bacteria and fungi. Per CDC guidelines, sanitizers must kill 99.9% of test bacteria. Sanitizing products cannot make claims to kill viruses. Any surface that comes in contact with food should be sanitized several times a day. Use only sanitizers that are labeled "food safe". Most products must air dry on the surface for 30-60 seconds to be effective.
Disinfecting goes a step further in that it will kill 99.999% of pathogens (bacteria, viruses and fungi) on hard and non-porous surfaces within 10 minutes (the length of time a particular product will need to dry will be on the label). Disinfectants are the only products listed by the EPA for use against COVID-19. All staff and customer touch points such as doorknobs, menus and restroom fixtures should be disinfected regularly. Due to the chemicals contained in these products they should not come in direct contact with food or food contact surfaces.
The EPA has published a list of disinfectants approved for use against the coronavirus. When using sanitizers and disinfectants make sure that your staff are trained in the proper storage, handling and use of each product. We are also here for you if you'd like to schedule a deep cleaning or add a sanitizing treatment to your next service. 
Trackback address for this post
Trackback URL (right click and copy shortcut/link location)
Feedback awaiting moderation
This post has 261 feedbacks awaiting moderation...

Comment feed for this post